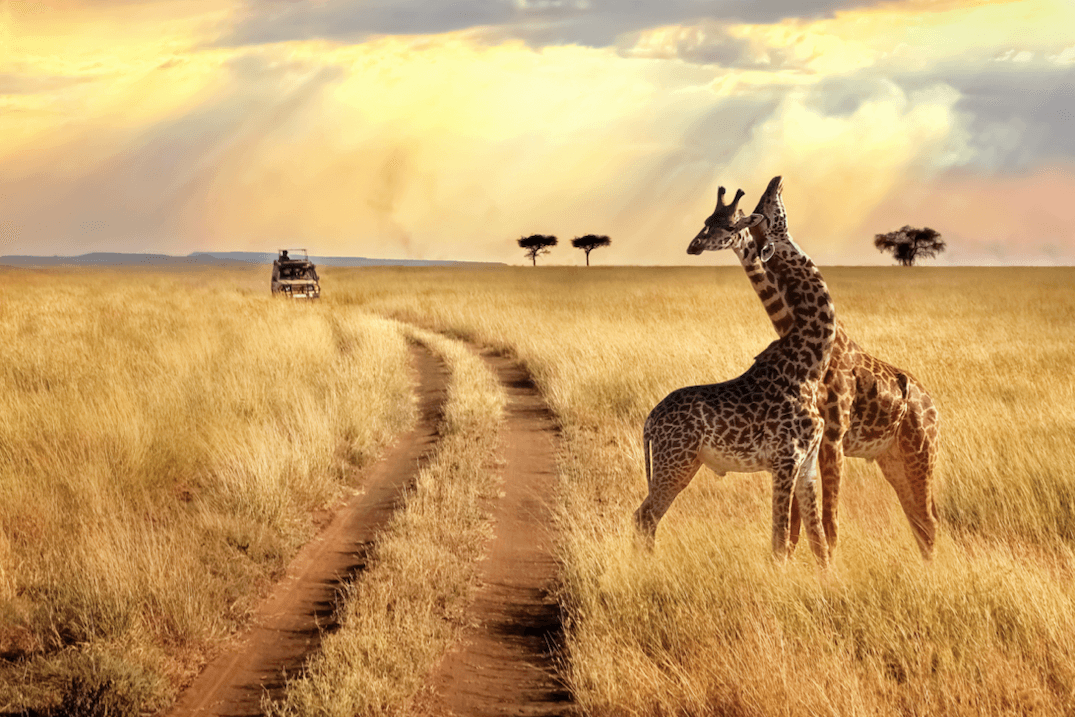 Two Families, Two Countries, One Amazing Adventure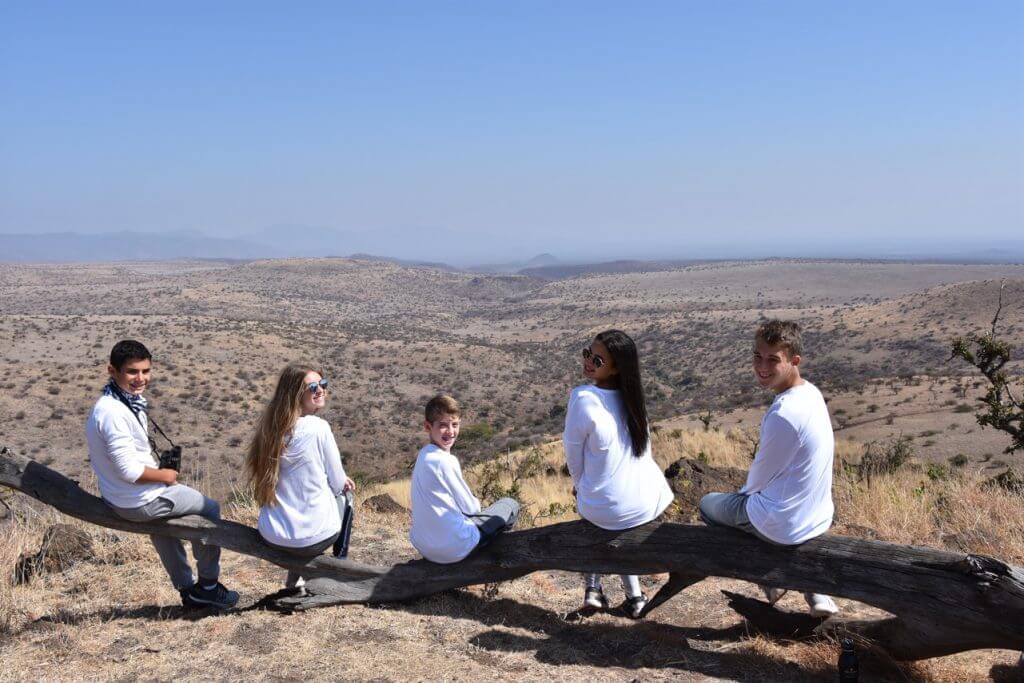 It's hard to believe it's over. After months of careful planning, we were back home in New Jersey still astounded by all we'd seen. Two families—me, my husband, Jon, and our two children, Carlie (16) and Chase (14), and the Espositos, Jamie, Stephen and their three kids, Tyler (16), Jaden (14) and Averey (14)—had the adventure of a lifetime.
Our itinerary took us from Nairobi to the Lewa Conservancy in northern Kenya, south to the Masai Mara for the great migration, and then to Tanzania to explore the Serengeti and the famed Ngorongoro Crater. We knew we'd see elephants and lions and jaw-dropping landscapes, but we never imagined the impact the sightings would have on us, what we'd learn about local cultures or the friendships we'd make along the way. People told us that an African safari was life-changing. Now I understand why.
Here are just a few of our favorite moments.
Giraffe Manor, Nairobi (One Night)
We Made It!
After two long flights and a long airport layover in London, we landed in Nairobi around 9pm, excited but ready for bed. There to greet us was our private Maasai guide, Dominic Loponu Miranit, who traveled with us throughout our 10 days in East Africa. He was an expert in African wildlife and took care of all the trip logistics so we didn't have to worry about anything. Dominic was a gift! In addition to the animals, he taught us about the Maasai culture—a life so different from our own—and by the end of our journey, he'd become part of our family. We had no idea when we met him that nine days later we'd hug him, sobbing, hating to say goodbye.
We spent our first night at Giraffe Manor, a beautiful estate on the outskirts of the city, known for its friendly Rothschild's giraffes. It was too dark to see anything when we arrived, but when I threw open my drapes the next morning, a huge, long-necked silhouette appeared outside my window. The giraffes are here! The giraffes are here! I screamed. My husband was sure I'd gone nuts.  At breakfast, the giraffes enchanted everyone by sticking their enormous heads through the manor windows so we could hand-feed them.
Lewa Safari Camp, Lewa Wildlife Conservancy (Two Nights)
Dining and the Great Outdoors
At the end of our afternoon game drive and our first night at Lewa Safari Camp, we took part in a wonderful tradition called a sundowner. Never heard of it? Imagine being in the middle of the bush, sipping your favorite drink while snacking on a few nibbles and watching the sun set below a fiery horizon. In front of you, a picture-perfect landscape. Great, right? Now add a small herd of white rhinos with a baby grazing 50 feet away. Rhinos!Creatures we'd only seen on National Geographic were calmly eating grass in front of us. We kept saying to each other, Where are we? Who are we? Pinch me!  It was surreal.
The next day, after a morning filled with white rhinos, ostriches, elephants, kudus, giraffes, cheetahs, buffaloes, zebras, and lots of birds, we found ourselves at the top of a lookout where we discovered a stunning view of the conservancy and a table set for a feast. Welcome to the bush breakfast. It was just for us, no other guests. A chef manned an omelet station while another prepared sausage and a third toasted bread over an old-school grill. Next to them was a table topped with a selection of yogurts, granola and other light fare for those who wanted it. We were blown away.  It was a delicious and completely over-the-top meal, but more important, we had so much fun.
Elephant Pepper Camp, Masai Mara (Three Nights)
Hippo to the Rescue
Anyone who goes to the Masai Mara during the great migration hopes to see a wildebeest crossing, but it's never a guarantee—Mother Nature doesn't care how far you flew to see it. But at Elephant Pepper Camp, we saw our first of two!
Opposite us on the banks of the Mara River, a large herd of wildebeest along with a few zebras milled about in a cloud of dust. The zebras, being the braver of the two, stepped into the water ready to lead the charge and slowly began to swim across. Within seconds, the zebras spotted two crocodiles, so they changed their mind and turned back. Determined to cross, a single zebra got to the other side only to learn that the others hadn't followed. Exasperated, he braved waters once again and swam back, then promptly started yelling at his friends. (If you haven't heard a zebra braying it's like a high-pitched crazy person laughing.)
After a good verbal smacking, his pals manned up and he led them to the other side, the herd of wildebeest following close behind. Hundreds of animals splashed in the water. Once they started, there was no stopping the stream of hooves and horns. Halfway through the exodus, the current began to pull the animals downstream, but miraculously out of nowhere, a giant hippo appeared and placed himself in a position to break the current. It was as if one of the animals shouted, Troops we need help, and the hippo came to the rescue, preventing the wildebeest from being washed away. The whole event was magical.
Life Lessons Learned
Social responsibility has always been important to our families, and in Africa we wanted to continue that tradition. Cathy, who oversees the African Dreams team, introduced us to Pack for a Purpose, a nonprofit organization in North Carolina. On the Pack for a Purpose website, there's a list of the items needed by each local community in the destinations we were visiting. These lists helped us to determine what to bring as a donation. Pack for a Purpose partners with lodging providers, including our safari camps. We filled up four safari bags with soccer balls, pumps, pencils, calculators, notebooks and human anatomy charts. Lewa Safari Camp distributed our donations to the local community. Elephant Pepper Camp arranged for us to visit the local community school with our donations and meet the students in person.
On the day of our visit, classes were canceled because of a holiday, but the Elephant Pepper Camp manager had advised the school's principal that we would be there. She in turn spread the word, and almost 300 students walked miles to welcome us. We couldn't believe it. Our children led the introductions, going from classroom to classroom to meet the preschool to the eighth-grade students. My daughter said, My name is Carlie. I live in New Jersey in the USA, and my favorite subject is science. Does anybody here like science? The hands went up, and soon they were deep in conversation. Later, we watched as the boys played soccer and the girls danced with the children they met.
The visit was filled with joy, the sharing of cultures and important lessons. Our kids were reminded that many children grow up without shoes or books or closets full of clothes, or that the opportunity to go to college, which they take for granted, is not a given for everyone. The experience hit home. It's one thing to pack a bag with donations for children you'll never meet, but to hand it to a young boy and see his face light up with a huge smile is an entirely different thing. I think that's what really resonated with our kids, and I believe it made a difference in the way they see the world.
Serengeti Bushtops Camp, Serengeti (Three Nights)
The Second Crossing
After an amazing time in Kenya, we flew to Tanzania and the Serengeti. Ten minutes after jumping into our jeeps, our drivers heard on the walkie-talkie that a crossing was in progress. Suddenly we were making a U-turn, and our drivers drove like lunatics (in a good way) to the Mara River, where the wildebeest crossing was taking place.
Most of the wildebeest had crossed by the time we arrived, but we got to see the dramatic end. A baby wildebeest was stranded on a rock a few feet from the shore. Its mother, honking up a storm, was trying desperately to climb up next to him but kept slipping back into the water. Over and over again, the mother tried. You can do it! You can do it! We kept saying.  And then we saw a crocodile head her way, and our hearts stopped. Oh no! That baby can't be left alone on the rock! We were frantic. No one wanted to see her get eaten. Just as the crocodile moved in for the kill, the mother pulled herself up onto the rock next to her baby. We were so relieved, we actually applauded.
Jurassic Park
Coming from Kenya, we thought the Serengeti would look similar to the Masai Mara, but it looked more like Jurassic Park, with large boulders sprinkled here and there. On one outcropping, we came across a pair of lionesses relaxing on top. They were so beautiful. We loved watching them stretch and play and nuzzle each other like giant house cats. It was amazing.
Neptune Ngorongoro Luxury Lodge, Ngorongoro Crater (One Night)
It's hard to describe the crater. Looking down from the top, the view was astonishing. It's such a cool place and very different from anything else we'd seen. Driving through the crater, we sighted a flock of pink flamingos that were wading in a lake and found a lion munching on a zebra. We missed the actual kill, which was OK with us, but we stayed to watch him rip it apart. Granted, it was a tad gory, but it was far enough away that it wasn't terrible—plus it was a powerful example of the circle of life. Later in the drive, it was so hot that two lions relaxed in the shadow of our jeep, which was thrilling because they were so close.
Planning Our Dream Trip
With nine people from two families traveling together, we had a lot to consider while planning our trip. We worked with Cathy Holler, who spent hours over many months planning our trip. She got to know us, learned what made each family tick, what we needed as individuals and how we would work together as a whole. She asked questions about our passions, dislikes, concerns and fantasies about Africa we wanted to indulge. No detail was too small. In fact, after learning that one of the children loved Oreo cookies, Cathy made sure that each camp had a supply on hand so he would feel at home.
Being a large group, we had logistical challenges to address. Domestic commercial flights into the bush were limited, so Cathy arranged for our own chartered aircraft for our entire safari. This provided us much more flexibility with our itinerary, reduced our travel time and gave us a new friend, our wonderful pilot, Sam Mbugua. Cathy selected lodges and camps that were top-of-the-line, and each safari camp had two family tents, providing plenty of room. We also had food allergies and special requests to consider, and the chefs were vigilant about our needs. She also arranged for us to have two private jeeps at each destination so we wouldn't have to share game drives with other guests and we could set our own schedule. When she learned about the community programs we were involved in at home, she suggested we connect with Pack for a Purpose.
Cathy's absolute best recommendation, however, was Dominic. She felt that we would be happier having a private guide as opposed to a different guide at each camp, which is the norm. She was so right. Honestly, Dominic alone made the trip worth every penny.
To speak to a Travel Designer regarding your own safari adventure, please call 1-888-249-3077
Explore our Experiences
We design life-enriching travel experiences to the most unforgettable destinations in the world, providing our clients with exclusive access in a unique and authentic way.  Whether you want to cruise the world in splendor, take an unforgettable African safari or create a magnificent travel experience exclusive to you, we have the unsurpassed knowledge, expertise and impeccable service you require.