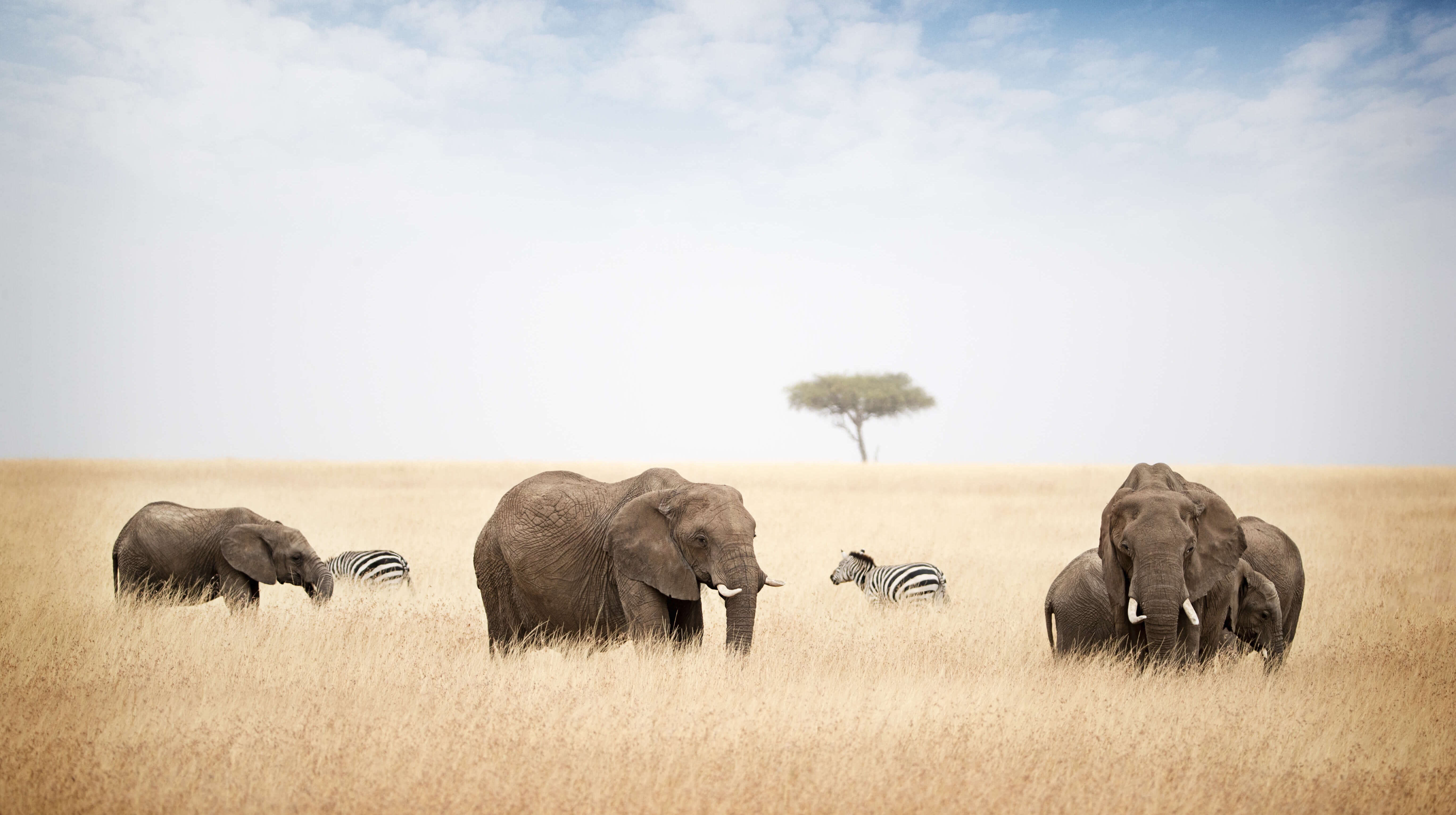 A Beginners Guide to Kenya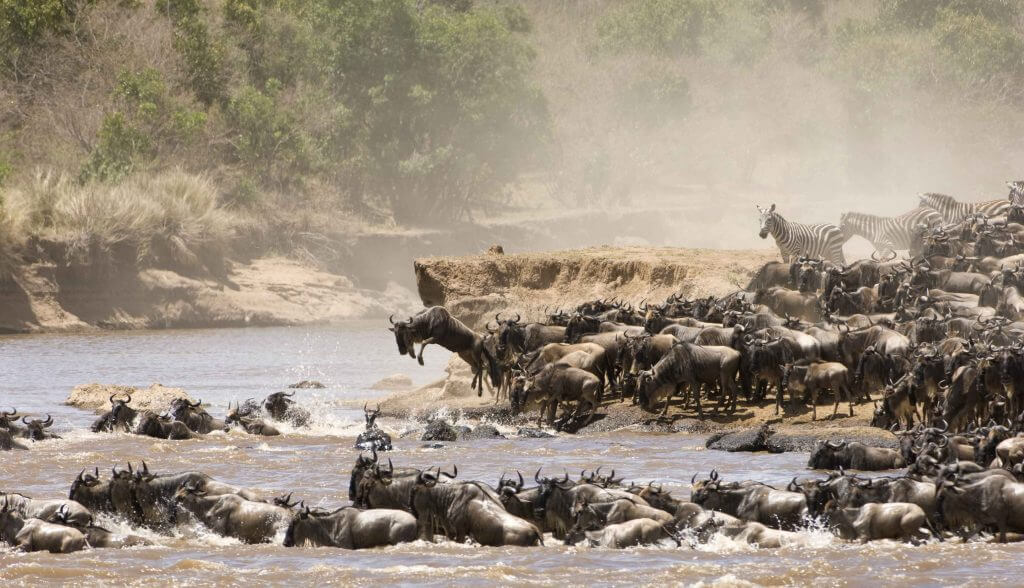 Kenya conjures a very specific image for most travellers: big skies over wide-open savannah, with elephant, wildebeest and giraffe moving lazily across the horizon. While that isn't wrong, it's only a fraction of what this remarkably varied East African country has to offer. On the Coast, you'll find Indian Ocean beaches and a tropical climate; in the centre, highlands split by the spectacular Great Rift Valley. Lake Turkana in the North and a segment of Lake Victoria in the South are Kenya's contribution to the African Great Lakes Region. While the West of the country gives way to forested hills and the Northeast to arid desert.
But while Kenya packs in more than you realise, it's Kenyan wildlife and Kenya safaris that holidaymakers dream of. The hotspots are broadly in the Southern Central Region, around Nairobi and Mount Kenya – here you'll find renowned reserves such as the Maasai Mara, Tsavo East and West, and Amboseli. They're Kenya's wildlife big-hitters, offering once-in-a-lifetime experiences for animal lovers, wildlife photographers and conservationists alike. For truly intimate, exclusive experiences of Kenya wildlife, though, it's worth looking beyond the big national parks to the smaller private conservancies on their outskirts.
Kenya's National Parks
Maasai Mara:
The Mara links to the Serengeti to the south, and together the two deliver one of the natural world's most remarkable spectacles: The Great Migration, which sees zebra, wildebeest and gazelle migrate between the two reserves en masse. It's something every wildlife-watcher dreams of experiencing.
Tsavo West National Park:
Is located in the Coast Province of Kenya. The park covers an area of 9,065 square kilometres. It has variety of wildlife, such as black rhino, Cape buffalo, elephants, leopard, lion  , giraffes and so much more.
Tsavo East National Park:
Is one of the oldest and largest parks in Kenya at 13,747 square kilometers and is one of the world's largest game reserves. Providing undeveloped wilderness homes to vast numbers of animals.
Amboseli National Park :
The park is famous for being the best place in Africa to get close to elephants. It is  the second most popular national park in Kenya after Maasai Mara National Reserve. Other attractions of the park include opportunities to meet Maasai and visit a Maasai village. The park also offers spectacular views of Mount Kilimanjaro, the highest free-standing mountain in the world.
Different Choices
Tully Luxury Travel offers tailor made itineraries to Kenya that include some of the most memorable Safari Experiences imaginable. Relish in an up close breakfast encounter with the fascinating herd of resident Rothschild giraffe at Giraffe Manor. One night is sufficient to enjoy this wonderful interaction or visit The David Sheldrick Elephant Orphanage which are both located in Nairobi as a pre- safari.
Enjoy horseback riding in a Massai Village from Sirikoi Game Lodge, gaze up at the beautiful night sky from your very own private 'star bed' at Ol Donyo Lodge or relax while soaking in your very own copper tub and listen to the hippos snorting across the plains from the privacy of your intimate lodge at Mara Plains Camp.
Luxury Experiences
From one of Kenya's oldest safari lodges or a brand new camp they all offer a magical experience which set standards in tented luxury. There is an alluring selection of safari lodges to choose from across Kenya.
All of the luxury safari lodges that Tully uses, showcase the very best that Kenya has to offer. Unforgettable views aside, from the moment you arrive, you'll be enchanted by the exquisite attention to detail in everything, from highly polished wood floors and elegant furnishings to tented en-suite bathrooms and in some camps plunge pools. The ultimate in decadence and luxury is at your disposal.
When it comes to Kenya's wildlife itself, don't just fixate on the Big Five.
For a unique experience … Sarara Luxury Tented Camp in Kenya provides an amazing experience with a bush "vibe". This is the home of the proud Samburu tribes one of the highlights is to visit the famous "Sarara Singing Wells". Samburu Warriors bring their cattle to these watering holes on a daily basis during dry season. The warriors descend into the wells which are up to 10 meters deep, forming a human chain chanting traditional Samburu songs as they pass the water up for the cattle.  This fascinating ritual goes on for hours each day.
Dine by candlelight under the stars or, wallow in an infinity pool overlooking the bush after a day of horse-back riding or visit a Massai village and learn their culture and see how they are "custodians of the land", or arrive by boat and across the Mara River to get to the watering hole … because a safari does not have to be all about the Big Five.
Focus on Conservation
With The Great Migration and Kenya's world-famous Maasai Mara National Reserve on the doorstep of many lodges, Kenya has an outstanding concentration of spectacular wildlife. Many of the camps at every turn offer comfort and eco-friendly experiences.
A passionate supporter of The David Sheldrick Wildlife Trust, Tully works effortlessly to help support The Elephant Orphanage. Clients can experience the interaction between humans and these orphaned elephants. Elephants are the only animals that can be re-habituated back into the wild. To see this is something that you will remember always.
– The Tully Team
Explore our Experiences
We design life-enriching travel experiences to the most unforgettable destinations in the world, providing our clients with exclusive access in a unique and authentic way.  Whether you want to cruise the world in splendor, take an unforgettable African safari or create a magnificent travel experience exclusive to you, we have the unsurpassed knowledge, expertise and impeccable service you require.