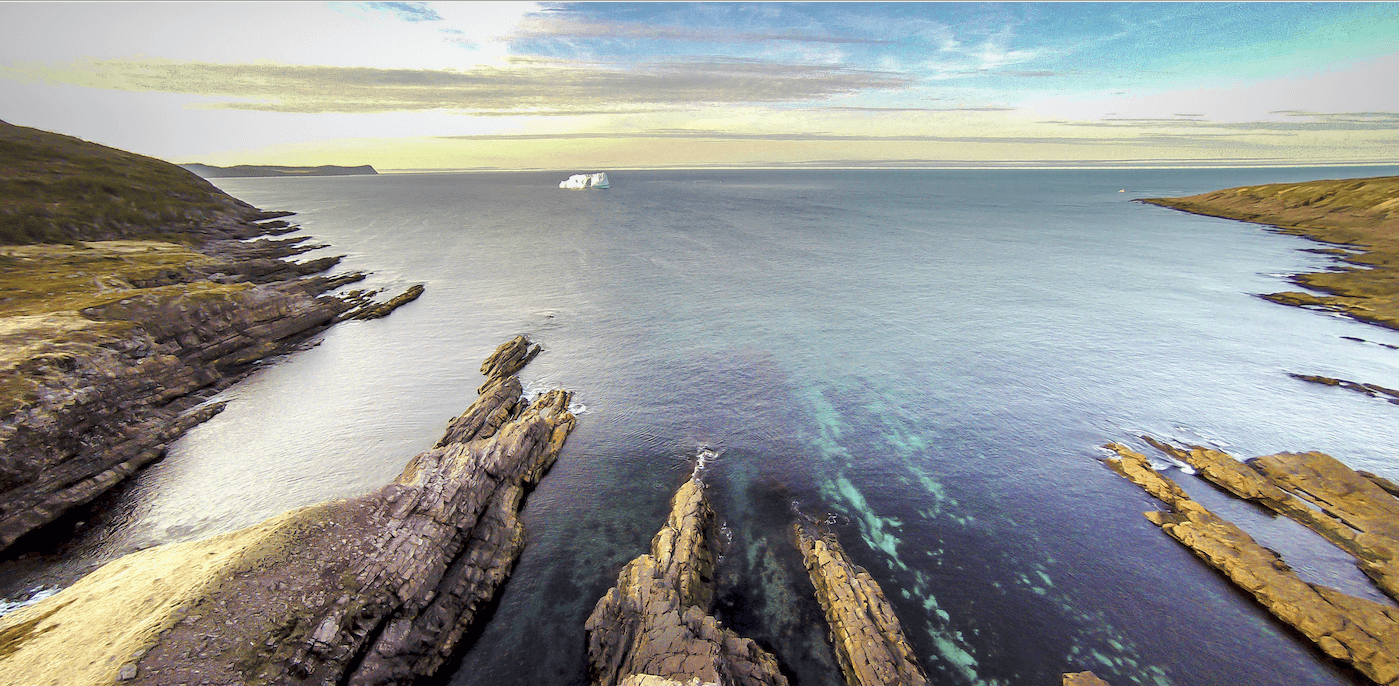 A Tully Review: Authentic Newfoundland Experience At The Fogo Island Inn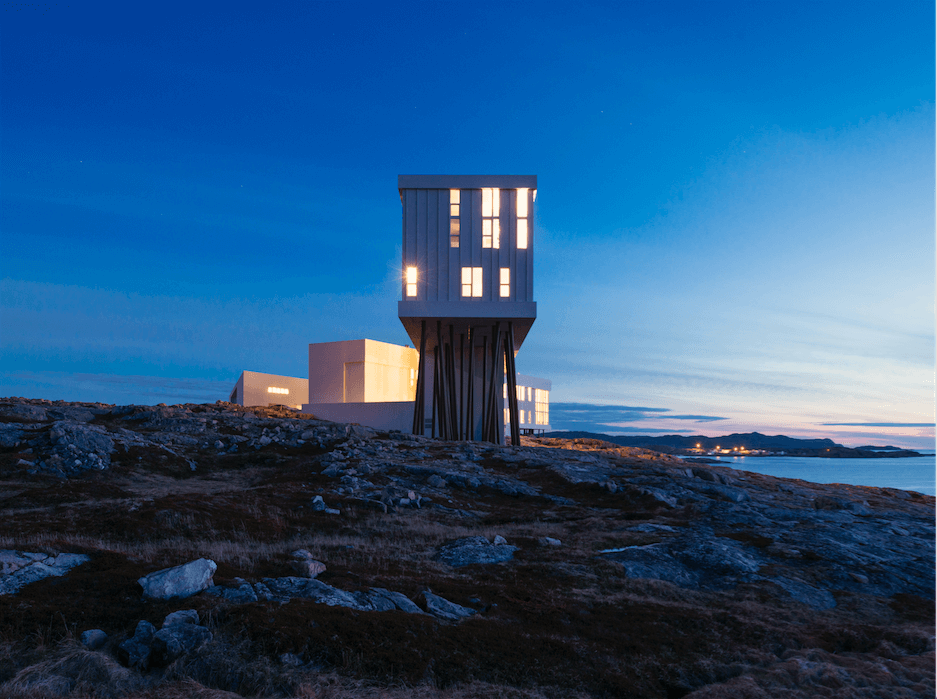 Up until recently, few people had heard of Fogo Island. With its rugged, treeless terrain, fierce winds and frigid waters, it certainly wasn't a place people visited for pleasure. There wasn't much to see or do. A cod-fishing moratorium had forced half the population off the island and its future looked grim. And then Zita Cobb came on to the scene, and as one local put it, "lit the candle again."
Under Cobb's shining stewardship, Fogo Island is now flourishing as a creative hotbed that combines contemporary art and design with centuries-old English and Irish folk traditions. Fogo Island Inn –– that stands over the Labrador Current –– is a beacon of modernity that pays homage to its past. The Inn offers fish-smoking classes, and meals are made with ingredients foraged from local land and sea. Judi Cohen, our Director of Experiences, made the epic journey there to see firsthand what put Fogo Island back on the map.
How do you think Zita Cobb has changed the future of Fogo Island?
I have met Zita and heard her speak several times about Fogo Island. The story is about the fish and the future of the people. Her own father, an illiterate fisherman, was forced to relocate to Toronto after overfishing destroyed his ability to earn a living for his family. This was the fate for so many Fogo Islanders. He died broken-hearted, in Zita's words, "because everything he knew had come to nothing. It left me with the strong belief that this was down to an unfortunate set of circumstances, but it didn't mean that everything he knew had no value." Zita's commitment to Fogo Island is personal. Her attention to detail and commitment to community and continuity is the hallmark of Fogo Island Inn. In spotlighting and celebrating the skills of local quilters, builders, storytellers, musicians, rope makers, and many others, Zita is no doubt making the future brighter for the people and Fogo Island.
How does the hotel pay homage to its surroundings, and the local culture and community in general?
The Fogo Island Inn's Newfoundland-born architect, Todd Saunders (now a resident of Norway) shows deep respect for its community, history and its relationship to land and sea. The design, environmentally conscious and wildly stunning, references the local outpost architecture in its long, rectangular form. Local materials and traditional techniques are used throughout the Inn, from the building itself to tiny details like the hand-painted map wallpaper in the elevators and the rope light fixtures in the dining room. There is no air conditioning, instead the Fogo Island Inn has a system that takes fresh island air from outside and circulates it.  Two friendly Newfoundland dogs, Make and Break, are permanent guests at the Inn, with a fenced in area right outside of the lobby entrance. Fogo Island residents act as Local Hosts receiving guests at the Inn. Our Host was Fergus Foley and I will never forget his warmth, hospitality and pride as he showed us around the Squish Art Studio, the hiking trails, the historical sights, the local homes, Foley's Shed and the many cemeteries. He was so eager to show us everything, including a hands on demonstration in the art of building a punt (small wooden boat). The reception and serving staff are mostly locals with a real Newfoundland sense of humour and hospitality that I thoroughly enjoyed.
The menus are based on what can be sourced from local land and sea. Tell us a little about the food you ate?
Every meal –– made with fresh ingredients from picked baby greens and fiddleheads, to berries, Caribou Moss and mushrooms foraged from the local bogs plus a variety of fresh local fish and meat–– was served with a detailed explanation by our server or the very passionate chef.  It's a richer experience when you know the food on your plate is fresh and local and made using traditional techniques. There were many select wines available for pairing with every meal.
People have very different interpretations of luxury. Who might find this to be a "luxurious" experience and why?
There is nothing opulent or showy about Fogo Island Inn.  But for the traveler who appreciates the finer details –– in the textiles, design, food, fabric, materials, history, authenticity and sense of place –– Fogo Island Inn is beautifully sensitive and highly sophisticated.  I would describe it as thoughtful understated elegance.  It's also challenging to get to, (whether it be by ferry, charter aircraft or by helicopter), and it's set in this rugged, moody, breathtaking environment, which all add to its uniqueness. Remote and peaceful have become benchmarks of luxury and many people look for that adventure and that escape in their travels. This is a place where one can choose to read and take in the view all day, or hike and paint and soak up the local history. One can do as little or as much as they choose. And that is a luxury.
All rooms have spectacular views. What was it like to wake up to that rugged, windswept beauty?
We never closed our curtains. The sunsets and sunrises over the Atlantic were like nothing I've ever seen. It was simply spectacular. The hotel provided binoculars in our rooms to watch for seabirds and whales. I happen to love the motion of the sea. I could gaze out at the ocean for hours in my rocking chair or comfy bed.  I have been told that some guests never leave their rooms and return over and over again to do just that!
How did you spend your days?
One day, we took a boat ride around the smaller islands and visited the very quaint Little Fogo Island. On our return journey I fished using a traditional method with a line wrapped around a wood frame.  I actually caught a giant cod, that our captains Mike and Aneas cleaned and gutted in front of us. On another day we went hiking around the Marconi Centre and picked blueberries along the trails which was quite beautiful. As I mentioned, you can come here and enjoy non-stop activity or sit back and stare out to sea.  I am looking forward to returning in the spring to see the majestic icebergs flow past Fogo Island along Iceberg Alley!
And what about the evenings?
Our evenings were spent conversing with other guests, hosts and staff (we actually met a couple that live in our neighbourhood in Toronto) and enjoying the food, wine and local entertainment. We watched the Tragically Hip's last concert in the screening room at the Fogo Island Inn with guests and staff and that was a truly Canadian experience. Had I been there another night, I might have gone for a "Boil Up" or to a "Shed Party" for a traditional Newfoundland experience.
What makes the experience so singular?
The Fogo Island Inn is such an unusual and out of scale sight in the small town of Joe Batt's Arm! It really is a magical place, not easily comparable to other places in the world. Zita's dream and personal commitment, combined with government funding and support from local community is a perfect trifecta. And it's not everyday that you see such pride in one's work and life and home. This place is honest, unique and heartfelt. Not to mention, astoundingly beautiful.  Nigel Richardson said it quite perfectly in the British Telegraph. "Fogo Island floats like a piece of salt cod in the broth of the North Atlantic –– preserved by its remoteness and, if not unchanging, then slower to change than just about anywhere I have been. What's happening there is a vision of how to manage that change; how to go forward without losing our souls, to borrow one of Cobb's phrases. It was a hell of a journey. It was also a kind of homecoming."
– The Tully Team
Explore our Experiences
We design life-enriching travel experiences to the most unforgettable destinations in the world, providing our clients with exclusive access in a unique and authentic way.  Whether you want to cruise the world in splendor, take an unforgettable African safari or create a magnificent travel experience exclusive to you, we have the unsurpassed knowledge, expertise and impeccable service you require.